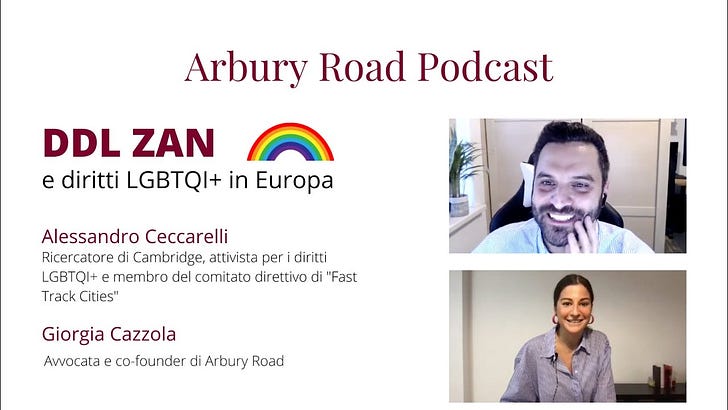 Nov 3, 2021 • 35M
🇮🇹 DDL Zan 🌈
e diritti LGBTQI+ in Europa
Interested in a more progressive Europe? Join the Arbury Road magazine team for a relaxed and friendly discussion about the latest developments in European politics and current affairs.
🇮🇹🎙Nuovo episodio di EU&ME sul DDL Zan ed i diritti LGBTQI+ in Europa. Giorgia Cazzola, Avvocata e Co-founder di Arbury Road ne discute con Alessandro Ceccarelli, Ricercatore di Cambridge, attivista per i diritti LGBTQI+ e membro del comitato direttivo di "Fast Track Cities". Versione sottotitolata su youtube (link sottostante).
✊ Argomenti trattati: ✅ Cos'è il DDL Zan e perché l'Italia ha così bisogno di una legge contro i crimini d'odio di matrice omotransfobica? ✅ Una risposta alle infondate critiche al contenuto del DDL Zan ✅ Qual è la situazione nel resto d'Europa per ciò che concerne la tutela dei diritti LGBTQI+? ✅ I prossimi step che l'Italia e l'Unione Europea devono compiere.
🇪🇺🎙New episode of EU&ME on DDL Zan and LGBTQI + rights in Europe. Giorgia Cazzola, Lawyer and Co-founder of Arbury Road discusses it with Alessandro Ceccarelli, Cambridge researcher, activist for LGBTQI + rights and member of the steering committee of "Fast Track Cities". Subs on the youtube version below!
✊ Topics covered: ✅ What is the Zan Bill and why does Italy so need a law against homotransphobic hate crimes? ✅ A response to unfounded criticisms of the content of the Zan bill ✅ What is the situation in the rest of Europe as regards the protection of LGBTQI + rights? ✅ The next steps that Italy and the European Union must take.