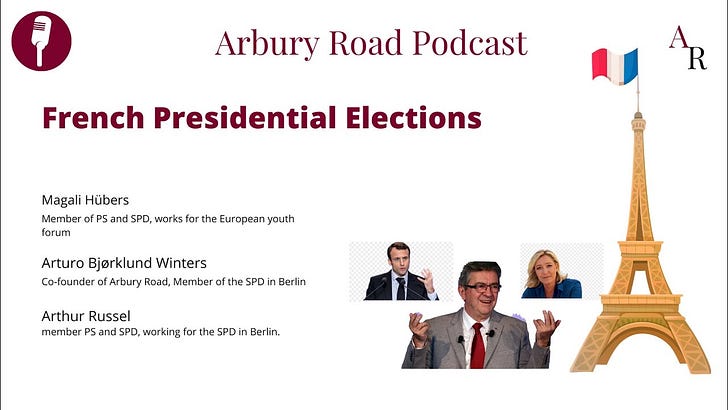 Apr 23 • 4M
💌 Recently on Arbury Road
A few updates from your friendly neighbourhood Arbury Road
Interested in a more progressive Europe? Join the Arbury Road magazine team for a relaxed and friendly discussion about the latest developments in European politics and current affairs.
Dear Arbury Road reader,
First of all, thanks for subscribing to our newsletter. As always we remind you that Arbury Road is run by volunteers and that you can help us continue our work by sharing our content on social media and by making a small donation HERE. As little as 5 euros can really make a difference and help us keep Arbury Road independent. Now let's dig into some of our recent publications.
🎙🇫🇷 French Presidential Elections 🇪🇺🇫🇷🇩🇪
🎙 This episode of Arbury road is split into three parts (one in English, one in German and one in French). We discuss the result of the first round of the presidential elections in France with two young french-german political activists.
🗣 Magali Hübers, member of PS and SPD, works for the European youth forum; 🗣 Arthur Russel, member PS and SPD, working for the SPD in Berlin.
🇪🇺 In the first part (English) we look at the results of the elections and their consequence on the political landscape. 🇩🇪 In the German part we try to understand how far specific topics influenced the result. 🇫🇷 In the last part in French, we compare the German and French situations with a focus on the rise of the social democratic party in Germany and its failure in France.
⚓️ English part
⚓️ German part
⚓️ French part
✍️ The need for social education in a globalised world: food for thought
🌳 At this moment when the war in Europe rightfully occupies the attention of everyone, we do not have to forget that other emergencies like the #climatecrisis are still there, more pressing than ever.
✊ We think structural economic factors are an important cause of #climatechange, but Yassin wonders whether human nature is the root cause and what we can do to address it. What do readers think? Feel free to join the conversation here or on our page.
🎙🇮🇹 Appunti Resistenti (Notes from the Resistance) ✊
🇮🇹 New episode of the Arbury Road podcast on the anniversary of the Italian Liberation Day (25th of April 1945).
📖 Readings from "Piccoli Maestri" by Luigi Meneghello by Abracalam.
📍 The event will be at 12.00 at Casa del popolo circolo ARCI XXV Aprile, Vicolo Magenta, Padua and live on the pages of Arbury Road, Articolo Uno Padova and Centro Studi Ettore Luccini.
Speakers:
👤 Alessandro Tognon Articolo 1
👤 Floriana Rizzetto President of ANPI
👤 Antonio Barchesi Auser
👤 Daniele Lorenzi National President of ARCI
👤 Flavio Varotto PD
👤 Arturo Winters SPD and co-founder of Arbury Road
🇪🇺 The event will be in Italian but with English subs in the youtube version. There will be also some videos from Arbury Road members!
✊ See you soon… and don't give up the fight!
That's all for this newsletter. We want to remind you that we have a 72% off for students on our subscription. And at this troubled time, with war raging in Europe, we want to send you a greeting of peace and resilience. See you soon! 💌